Stay engaged with what's going on in our CF Students ministry through these avenues.
Wednesday Nights
Over the next month or so on Wednesday nights at the church (6:30-8pm), we are going to be looking at this idea of "The Big Questions" with your teens. We all have questions, and we want to show them that following Jesus helps us to address these questions in a meaningful way. Throughout our time together, we are going to provide plenty of time and opportunities for your teens to ask any questions that they may have. Questions about life, faith, God, the Bible, etc. - whatever is on their hearts that they want to know more about.
These are devotional plans that follow along with the lessons.
High Schoolers: https://www.bible.com/reading-plans/26031-the-big-questions-for-high-schoolers
Middle Schoolers: https://www.bible.com/reading-plans/25838-the-big-questions-for-middle-schoolers
We are excited to have your teen join us Wednesday nights as we go through this series! Per usual, there will be drinks/snacks provided, as well as time for fun & games, a short lesson and time together in small groups.
We want to make sure you don't miss anything going on with our Students so make sure your contact info is up to date HERE to receive emails/texts.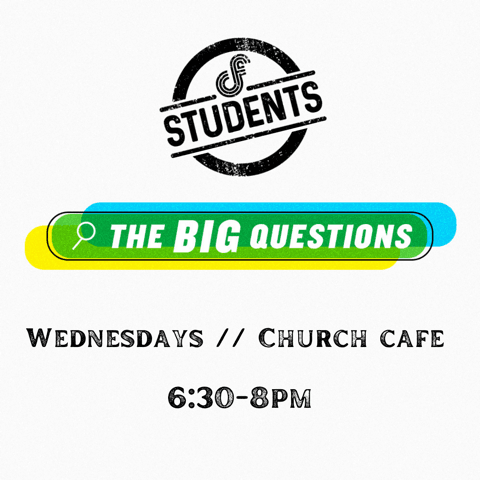 Stay Connected
Contact Brandon with any questions: brandon@cfisforlovers.com